30-year-old son identified as Melvin O'Neal sends his mother to the hospital after beating up in her house.
A Facebook user identified as Trina Daniels took to the platform to narrate the traumatic event faced at the hands of her son.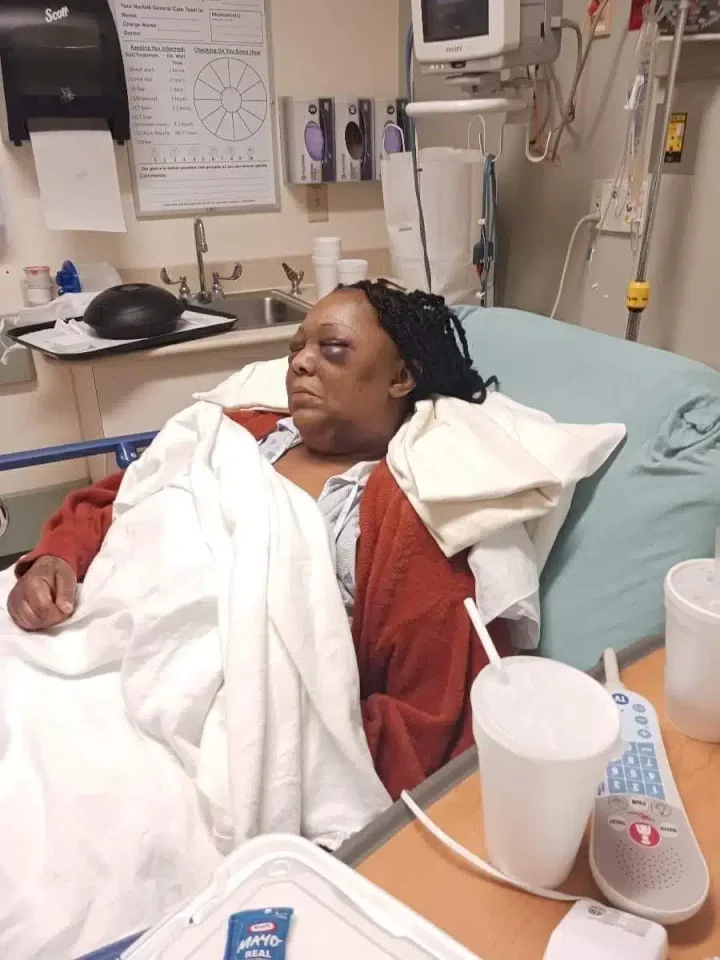 In a now-deleted post, Trina stated that Melvin visited her home and after chitchatting together, he lured her to the bathroom where he beat her up.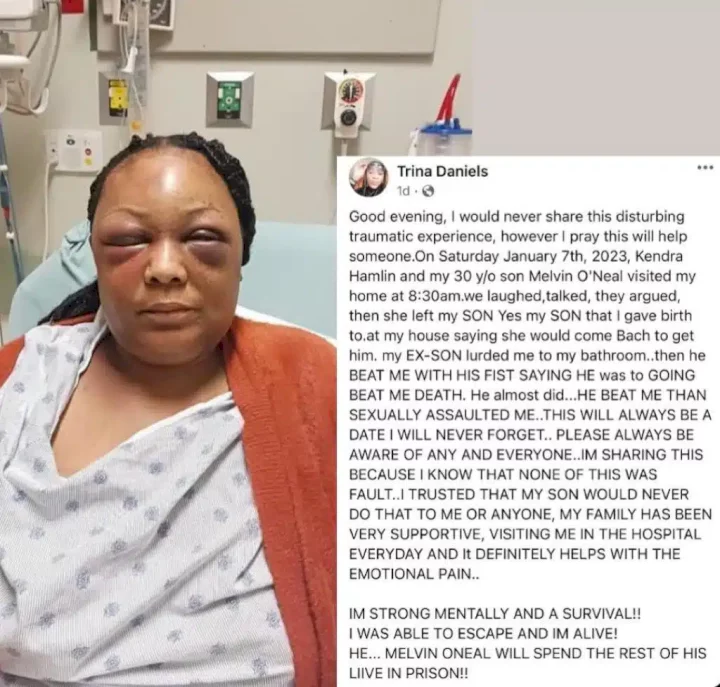 In a lengthy narration, she wrote;
"Good evening, I would never share this disturbing traumatic experience, however I pray this will help someone. On Saturday January 7th, 2023, Kendra Hamlin and my 30 y/o son Melvin O'Neal visited my home at 8:30am. we laughed, talked, they argued, then she left my SON Yes my SON that I gave birth to. at my house saying she would come Bach to get him.

My EX-SON lurded me to my bathroom..then he BEAT ME WITH HIS FIST SAYING HE was to GOING BEAT ME DEATH. He almost did…HE BEAT ME THAN SEXUALLY ASSAULTED ME..THIS WILL ALWAYS BE A DATE I WILL NEVER FORGET.. PLEASE ALWAYS BE AWARE OF ANY AND EVERYONE..IM SHARING THIS BECAUSE I KNOW THAT NONE OF THIS WAS FAULT..I TRUSTED THAT MY SON WOULD NEVER DO THAT TO ME OR ANYONE, MY FAMILY HAS BEEN VERY SUPPORTIVE, VISITING ME IN THE HOSPITAL EVERYDAY AND It DEFINITELY HELPS WITH THE EMOTIONAL PAIN..
IM STRONG MENTALLY AND A SURVIVAL!!
I WAS ABLE TO ESCAPE AND IM ALIVE!
HE… MELVIN ONEAL WILL SPEND THE REST OF HIS LIIVE IN PRISON!!"